What's green, 400 feet tall, and eats cellos for breakfast? It's Cellozilla!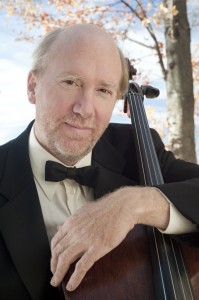 Hi!  I'm Michael Reynolds, cellist of the Muir String Quartet and a professor of cello at Boston University. The goal of this website is to provide a growing library of resources to help you develop your cellozilla mojo. Good practice routines are really important. With slow and careful practice of Scales, Arpeggios, and Double Stops, Etudes, Bach and More, use of some Cello Yoga principles, along with other resources offered here, you can be well along the path of becoming a monster cellist.
I invite you to download more than 250 free scale, arpeggio, and double-stop PDF's. Be sure to download Rhythmic and bowing variations and Double stop preparatory exercises too. We're also preparing a book including all of these resources that you can buy; all proceeds go to Classics for Kids Foundation, which supports string programs around America.
Check out some videos I'm creating that deal with some common issues that challenge us, including Stretches, Extensions, Double stops, Intonation and others.
The Etudes page is an open-sourced library of recordings and YouTube clips of a growing body of etude literature. If you feel like your cellozilla mojo is up to it, I invite you to submit a recording or YouTube video of your favorite etude(s); they'll be reviewed and posted (if they're perfect)! There's an enormous library of etudes out there that are great steps along the path; some favorites are Duport, Franchomme, Lee, the Schroeder books, Grutzmacher, Piatti, and, of course, Popper.
Bach is probably the greatest teacher for good intonation, tone, phrasing and understanding of musical character. Check out my Bach and More page; as examples, you can download individual movements of my recording of the Bach Suites, individual Suites, or the entire set; all proceeds go to Classics for Kids Foundation to support string programs and the kids they serve through CFKF's matching grant program.
To keep you limber and to help avoid injury, (we're all athletes, right?) there are lots of ways to keep your cellomojo flowing smoothly. Check out the CelloYoga page for ideas and links to a growing library of videos and examples of stretches, breathing techniques and other tools to help keep you in good shape.
So get started and become a monster cellist!